Utilizes Modern Features
With Enterprise Capabilities
Enterprise grade telephony solution for employees. Simplified management for admins.

Easy account management
You're an entrepreneur, and like all business owners you get stuff done. This is why Zeotel built a robust self-service interface allowing customers to configure their entire phone system fast and easy. No waiting on developers, no waiting on administrators, no waiting on customer support- you have the power at your fingertips to configure it all! And should you ever get stuck, Zeotel is always available to help 7 days a week, 365 days a year. Our user-friendly design lets you configure and manage more than 20 features with a few simple clicks. After all, we haven't forgotten you've got a business to run.

Call blocking of unwanted calls
Easily block callers or add them to your blocked calls list in your Zeotel online account settings. Charges will not be deducted from your Zeotel account when a blocked caller attempts to call. Phone numbers you'd like to block can be quickly added to your black list callers list from directly within your call logs. You can also un-block callers just as easily.

Send callers to the right place the first time
Zeotel automatically route calls to the extension or department callers want to reach with menus and an automated receptionist. Professional and efficient. Since every employee has his or her own extension (for free), callers can just enter the extension of the person they want to speak with and they are connected instantly. Easily forward all calls to your cell phone, home phone or practically anything that rings. Your extension can go with you everywhere, but only if you want it to. An in-call feature that allows you to transfer any call from your phone to another extension on the same Zeotel account.

View all incoming and missed calls with relevant details
You can view reports on the calls you receive and time spent on each call. By logging into your account you can instantly view the number of calls received. You can download call deetails also in excel file.
Manage Zeotel Account With User Friendly Dashboard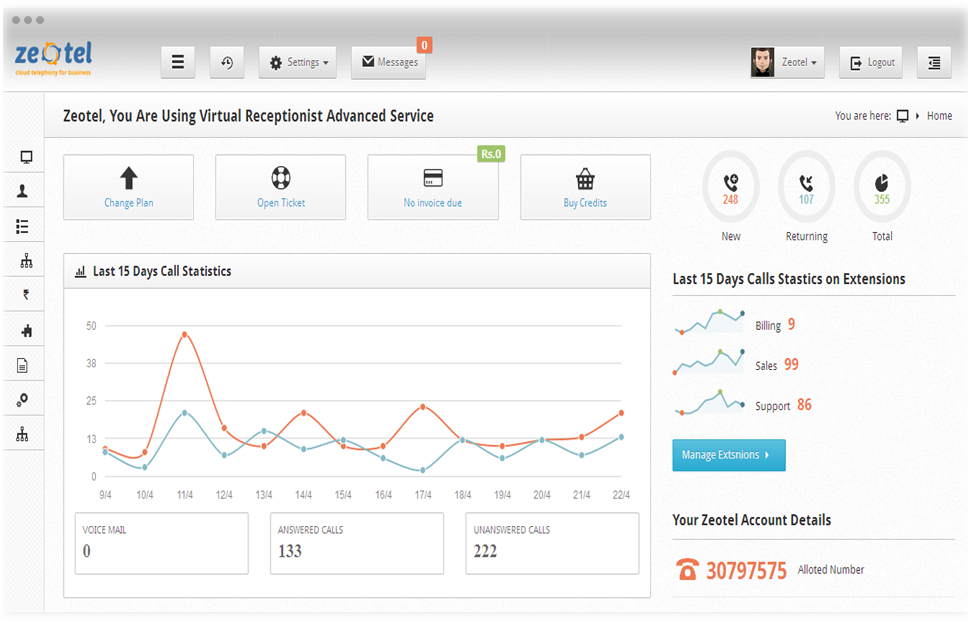 Get call notifications by Email, SMS
Setup your account to send a simple notification via email and/or SMS for incoming calls. Messages contain the Caller ID of the caller, date, time and duration of the call. Each number and every extension in your Zeotel account has its own settings to configure Call Notification.

Reliable call recording
Set up and manage your call recordings in your Zeotel online account settings. Choose to record every incoming call, or restrict call recording to specific exetsnsion on your account. Recorded calls are stored in your Zeotel account call logs for review, and to save as wav files.

Accept or reject a call with call screening
Set up call screening with an audio message that tells you which number was dialed, and provides caller ID info. Zeotel offers several features including call screening, which announces the caller and lets you accept or reject the call; voice tag, which lets you identify the source of incoming calls.

Send calls to the right place
Call transfer is an in-call feature that lets you transfer incoming calls from your phone to another extension. When a call comes in to your mobile phone or a traditional (analog) desk phone, you can press *9 on your phone to do a call transfer.
Send Callers To The Right Place The First Time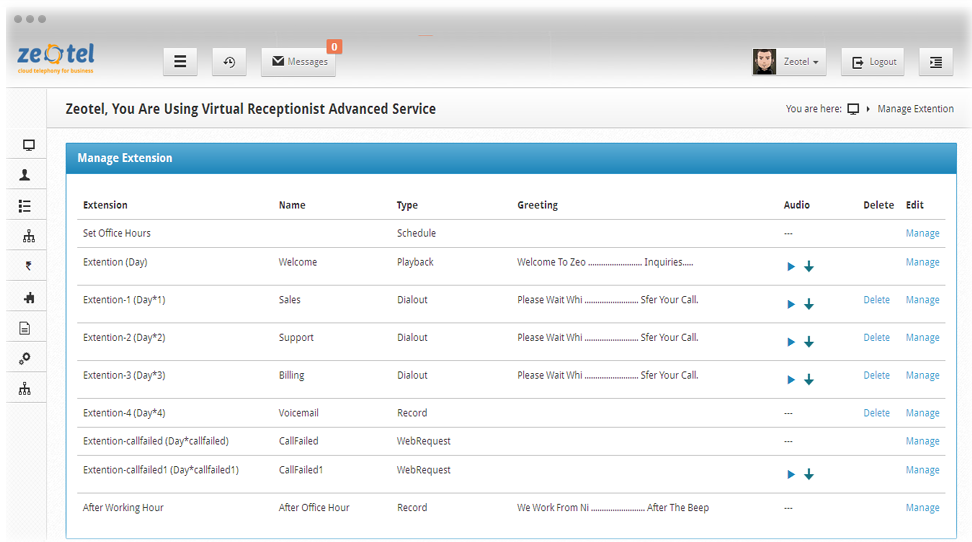 Valuable insight with caller analytics
An account wide snapshot of caller data with new and returning call break downs. Break your calls down by inbound, duration as well as the time of the call. Your caller data is analyzed by caller demographics. Understand how your callers are reaching you, via landline or cell phone. This also includes the cellular provider. Analyze your callers by breaking down between new and returning callers to your Zeotel number.

See who's calling with caller id
We can assign personalized call handling rules for callers (based on their Caller ID) to send them to personalized messages, numbers, voicemail and more. Block anonymous or unknown incoming calls to your Zeotel number or block based on the incoming call's Caller ID.

Integrate Zeotel and your CRM
Your CRM contains a wealth of information, but it can be hard to find in time to make a difference on a phone call. With Zeotel, the crucial information is served in an intuitive popup before the call is even answered. The popup arms salespeople with the information they need to close from the moment they answer the phone. Zeotel logs every call in the background so you get complete information and your team can focus on closing deals instead of data entry.

Receive calls anywhere
Call Forwarding lets you direct calls to one or many phone numbers, including your home, office, mobile or any phone worldwide. Zeotel forward incoming calls to all of your numbers, so you never miss a call. Home, mobile, office—you're covered.
Zeotel CRM For Saving Leads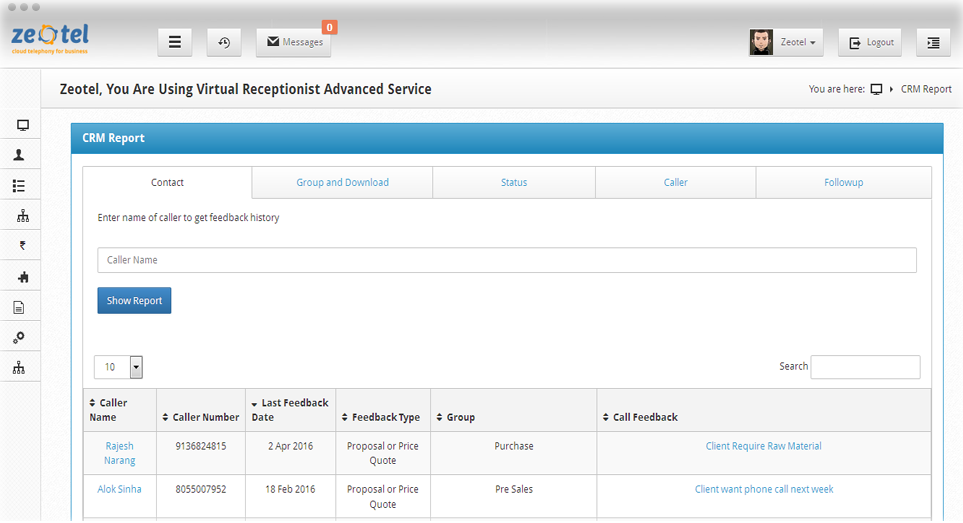 Personalize your phone system with greetings
Set up call screening with an audio message that tells you which number was dialed, and provides caller ID info. Zeotel offers several features including call screening, which announces the caller and lets you accept or reject the call; voice tag, which lets you identify the source of incoming calls.

Standard and customize hold music
Select from a variety of professional, quality music tracks that play while callers are on hold or while waiting in a queue. You can also upload your Hold Music by login to your account.

Hold and transfer calls
In-Call Features are available during an incoming call to your Zeotel number and controlled by pressing the corresponding buttons on your keypad. The in-call features are particularly helpful when using a traditional telephone which may not have dedicated hold or transfer buttons.

Send and receive faxes
With the click of a button you can upload documents from your computer (bmp, gif, jpg, pdf, txt, doc, xls and html) and send them to any fax number. Each incoming fax is converted into a PDF file and sent to your desired inbox for easy access. You can also have a fax forwarded to your email account for you to view, forward, and save on your computer.
View All Incoming And Missed Calls With Relevant Details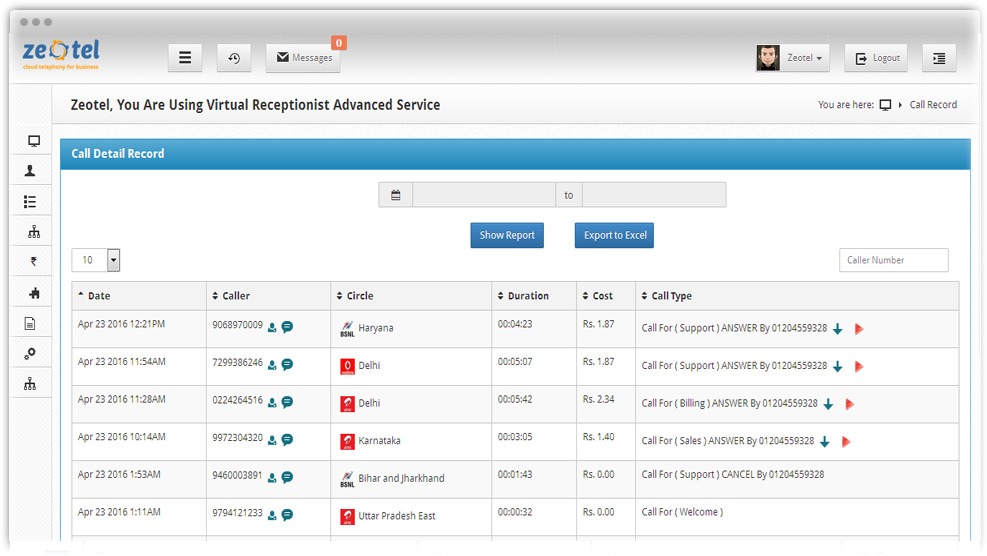 Phone menus send callers to the right place
Zeotel Menus are the initial audio greeting telling callers which key to press to reach your phones, groups or voicemail ("Press 1 for sales..."). Set up your menu with a customized recording giving important information such as business hours, company directory and any other important instructions.

Route incoming calls to any phone with queues
Call Queues allow you to route incoming calls to a specific group of phone numbers, or members. Queue members are rung in order from first to last, and if a member is already on a call, the next number on the list is rung. While callers are waiting to be connected, Zeotel will play your selected Hold Music. Queues are perfect for customer support, sales departments, help desks, reservations and appointments, and so much more.

Create custom schedules based on your business
Schedules allow you to route incoming calls to different numbers, extensions, greetings, menus and more based on the day and time the call is received. For example, a call received during business hours can be set to have your normal greeting while a call received after business hours can be set to to have your After-Hours Greeting.

Receive SMS on Zeotel number
SMS Messages (text messages) sent to your Zeotel number can be received and displayed in your account inbox. You need to subscribe SIM hosting for this feature.
Valuable Insight With Caller Analytics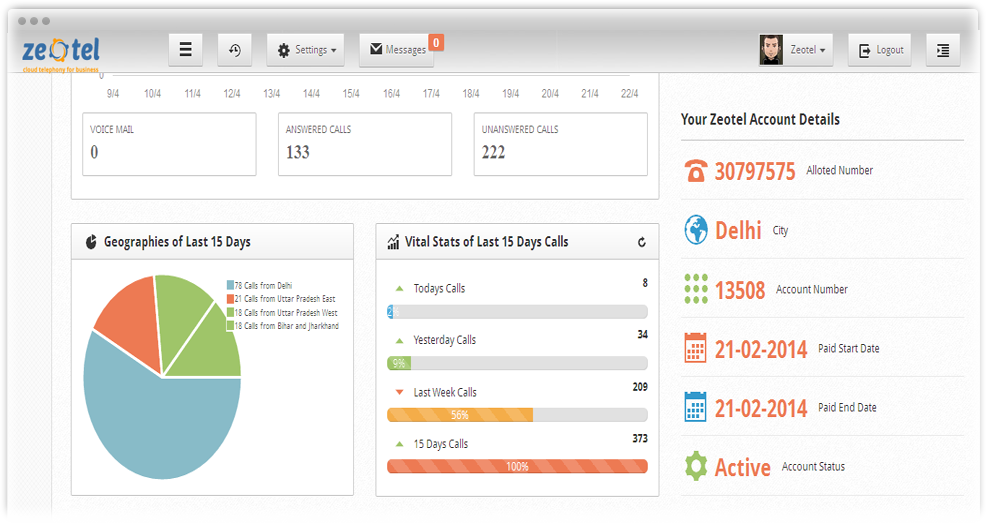 Our text-to-greeting tool creates custom audio messages
Text-to-Greeting is a free Zeotel tool that allows you to create custom audio messages voiced by a selection of automated personalities. Enter the text to be read, select your voice in your account. Your custom messages can used for menus, caller greetings, voicemail greetings.

Advanced voicemail for each extension, standard
Zeotel lets you listen to voicemail messages directly in your online account. All extensions can login and manage their own messages. There is no limit to recording length and voicemails will be saved for 90 days, unless deleted.

Zeotel CRM for saving leads
Zeotel provides CRM also for saving incoming call leads. Not only you can save caller details in Zeotel CRM but Zeotel also remind you for followup date with your client. You can export data of your Zeotel CRM also in excel file.

24x7 India based customer support
Zeotel's India based support isn't just there to assist when you're having a problem. Our support agents are fully trained on the Zeotel platform and will help walk you through setting up any one of our platforms 24+ features.